Samsung may have delayed the release of their foldable smartphone, but it' still worth looking into this revolutionary gadget. Here's what we know so far about the electronics giant's first folding phone, the Galaxy Fold.
RELATED: Huawei Mate 20 Pro: iPhone Killer
In this article:
Foldable Smartphone Sneak Peek | Samsung Galaxy Fold
An Introduction of Foldable Smartphone in the U.S.
The foldable smartphone is finally happening in the U.S., and Samsung is leading the charge with its new foldable phone, the Galaxy Fold.
While the Samsung version may be the only one you've been hearing much buzz about, there is another folding phone to consider as well — the Mate X by Huawei.
The Mate X is larger than the Galaxy Fold and quite thin, which is why some are predicting it might give Samsung a real run for its money. Still, for most Americans, the eagerly awaited Samsung model is gaining the lion's share of attention.
What's the Big Deal About the Samsung Galaxy Fold?
Fans of the Galaxy Fold will, accurately, argue it is a tablet and a phone in one device. However, with that, this smartphone will approximately be the cost of a tablet and a phone.
Ringing in at $1,980, the foldable phone price is pricey. In fact, the Galaxy Fold is one of the most expensive mass-market phones available today. The real question is whether it's worth its hefty price point or not.
Features of the Samsung Galaxy Fold
Screen Size
Because the Galaxy Fold literally folds, it has the capacity to operate either as a smartphone with a 4.6" display or a tablet with a 7.5" display. That in itself is exciting because you get two gadgets in one package!
It also has an invisible hinge system that creates a seamless viewing experience. App continuity also allows the images, videos, and information to switch flawlessly when opening the phone.
Appearance
The phone itself is available in four colors:
Cosmos blue
Space silver
Martian green
Astro blue
Depending on the specific color you choose, you'll have the option to personalize the hinge colors on your phone as well.
RELATED: Google Pixel 3 VS iPhone XS: Battle Of The Flagships
Multitasking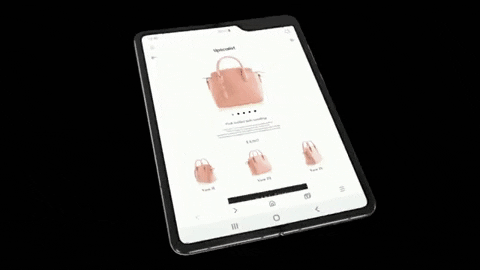 Samsung Galaxy Fold GIF Via Giphy
With 12 GB of RAM, this new foldable phone is a multitasking machine that even supports three-app multitasking. Whether you intend to use your first foldable phone for business, pleasure, or a little bit of both, the Galaxy Fold won't disappoint.
Its seamless continuity of viewing upon unfolding also helps with this aspect. This allows you to experience the video, images, etc. without missing a beat if you need to open your phone up for a closer look on the larger screen.
Camera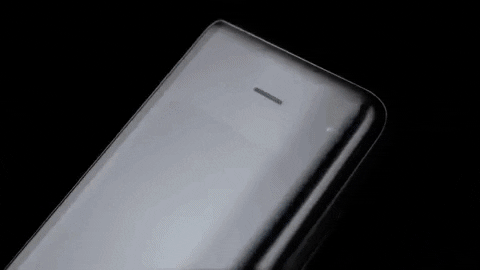 Samsung Galaxy Fold GIF Via Giphy
Since most people rely heavily on their smartphone cameras for snapping pictures for work or play, you'll be delighted to know you'll have plenty of options for doing just that with your Galaxy Fold. The foldable smartphone contains six total cameras.
3 cameras on the back of the phone
2 cameras on the inside of the phone
1 camera on the front of the phone
Whether you're snapping pics of breakfast for Instagram, taking photos for work, or snapping precious memories with your loved ones, there's a camera for that on the new folding phone from Samsung.
The Numbers
There are several numbers about this phone that will appeal to tech lovers from all walks of life, especially those who like to "overclock" their systems. These are a few numbers sure to thrill.
12 GB RAM
512 GB Memory
4,380 mAh battery
18W faster charging
Qualcomm 7 nanometer SDM855 Snapdragon 855 chipset
12 MP (rear wide angle and telephoto cameras)
16 MP (rear ultra-wide camera)
10 MP (front selfie camera)
10 MP (interior selfie camera)
8 MP (interior RGB depth camera)
4.6" HD+ external display (when closed)
7.3" QXGA+ main display (when opened)
Finally, the Galaxy Fold works on Android 9.9 with One UI operating system. The big question mark remaining for the Galaxy Fold is whether it will be available in 5G.
Galaxy asserts it will have a 5G model available but has not yet offered an official release date or price for that model.
One UI Definition: A software suite created by Samsung Electronics specifically for its devices. It aims to provide ease during one-hand use of smartphones that have large screens.
Why Has Samsung Delayed the Release of the Galaxy Fold?
Samsung originally intended to release the Galaxy Fold to the public on April 26, 2019. However, there have been multiple reports of screen failures after initial units were sent to reviewers.
An early review reported that the display failed once the screen protector on the inside screen was removed. While Samsung said the screen protector shouldn't be removed, the reviewer wondered why a thin film seemingly means the difference for an almost-$2,000 phone to stop working.
No date has been set yet for when the Galaxy Fold will debut.
Watch the new Galaxy fold as they unveil in this video from Samsung:
The release of Samsung's first foldable smartphone will bring the future of smartphones to the American market. Its exciting new features and functionalities mark the start of something new for the industry and will forever change the game.
However, with new technologies comes the risk of quirks and issues that need to be addressed. Whether this becomes a trend in smartphones or not remains to be unseen.
Are you interested in having a phone with a foldable screen? Why or why not? Let us know in the comments section below! 
Up Next:
Samsung Galaxy Fold Feature Image Photo by Samsung